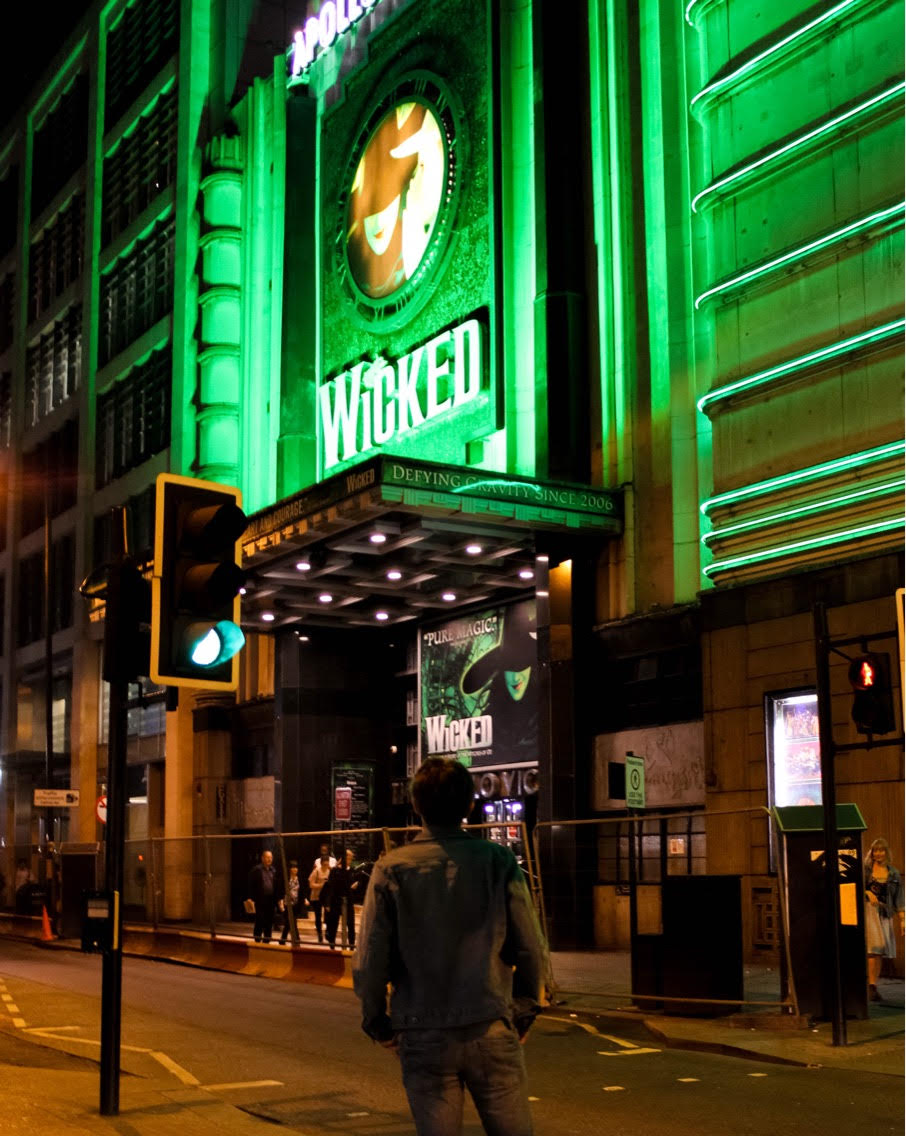 Si il y a un spectacle que je rêvais de voir, c'est Wicked… et devinez quoi ? Je l'ai vu ! (Mais si vous me suivez sur instagram, vous le savez déjà 😉 )
Wicked est étrangement peu connu par le grand public Fançais ; c'est pourtant la comédie musicale la plus célèbre de Broadway ! Wicked a fait ses premiers pas sur les planches en 2003 et c'est installé pour de bon dans le paysage des comédies musicales sous un déluge de récompenses et de bonnes critiques !
En tant que bon Français j'ai entendu parlé de Wicked pour la première fois en 2009 lors de la sortie de Glee, qui a mis un énorme coup de projecteur à l'international sur Broadway ! Depuis, c'était un rêve pour moi de voir ce spectacle.

De quoi parle Wicked ?
Wicked c'est l'histoire secrète des sorcières du pays d'Oz ! Dans ce prequel au magicien d'Oz sous forme de flashback on découvre l'histoire d'amitié improbable entre la bonne sorcière Glinda et la Méchante sorcière Elphaba.
Wicked est l'occasion de découvrir l'envers du décors du pays d'Oz, que les bons et les mauvais ne sont pas forcement ceux qu'on pense. On découvre les raisons qui ont poussé Elpaba à devenir la méchante sorcière de L'Ouest, ce qui donne au personnage une toute autre dimension ! 
Comment réserver ses places pour Wicked à Londres ?
J'ai réservé mes place pour Wicked à Londres sur le site www.comedie-musicale-londres.fr ! Le site est très intuitif et propose un large choix de comedies musicales à Londres. Comme dans un théâtre, il y a certaines places qui coutent plus cher que d'autres ; sur le site un schéma bien détaillé de la salle vous explique quelles sont les meilleures places et quels sont les meilleurs tarifs.
Un conseil, n'hésitez pas à prendre une très bonne place ; ça peut paraître cher sur le coup, mais croyez-moi, c'est un souvenir qui restera impérissable ! Placé avec une amie au 3eme rang, j'ai pu découvrir ce show dans ces moindres détails. Que ce soit au niveau des détails des costumes, le jeu des comédiens, les performances vocales, la danse, l'éclairage, les décors… tout était incroyable !
Vous l'aurez compris si compter aller prochainement à Londres, n'oubliez pas de réserver vos places pour Wicked pour vous aussi «Defyiiiing Gravity »  !
---
Wicked in London !
Since a while I dreamed to see the musical Wicked… and guess what ? I saw it in London ! (But if you follow my instagram's stories, you already know it ;))
In France, people don't know Wicked, however it's the most famous musical in Broadway since a while ! Wicked started in 2003 and defy gravity since this moment,  with a lot of prices and good critic !
As french, I heard for the first time a song from Wicked in 2009 when glee started, Since, it was a dream to see this show !
What is the story of Wicked ?
Wicked is the untold story of the Witches of Oz ! In this prequel of the wizard of Oz, we discover the friendship stared in Highschool between the kind witch Glinda and Elphaba, the Wicked with of Oz.
With Wicked, we discover all the secrets in Oz, that the good and the Vilain are not always who we think they are ! With this show we understood the reason why Elphaba became the Wicked witch of the West !
An advice, buy a good tickets, it can be expensive at the moment, but believe me, Wicked gonna be a wonderfull memories ! I was at the 3rd row, I discovered this show in each details and it was amazing !
You may understand, if you want to go soon in London, don't forget to buy your ticked for wicked, to «Defyiiiing Gravity »  !